You are here: Home » Feature, Hot Properties, House and Lot, House and Lot for Sale, House and Lot for Sale Davao City, Properties, Ready to Occupy House and Lot for Sale in Davao City, and Residential Properties. » Property tags: 3 Bedroom House for Sale Davao, Deca Homes Indangan Davao, Deca Homes Indangan House for Sale, House for Sale Davao, and 𝗜𝗻𝗰𝗿𝗲𝗱𝗶𝗯𝗹𝗲 𝗗𝗲𝗮𝗹 𝗼𝗻 𝗮 𝟯 𝗕𝗲𝗱𝗿𝗼𝗼𝗺 𝗛𝗼𝗺𝗲 𝗶𝗻 𝗗𝗮𝘃𝗮𝗼 𝗖𝗶𝘁𝘆. » Incredible Deal on a 3 Bedroom Home in Davao City- 𝗖𝗵𝗲𝗰𝗸 𝗶𝘁 𝗢𝘂𝘁 𝗡𝗼𝘄
Incredible Deal on a 3 Bedroom Home in Davao City- 𝗖𝗵𝗲𝗰𝗸 𝗶𝘁 𝗢𝘂𝘁 𝗡𝗼𝘄
Visited 92 times , 2 Visits today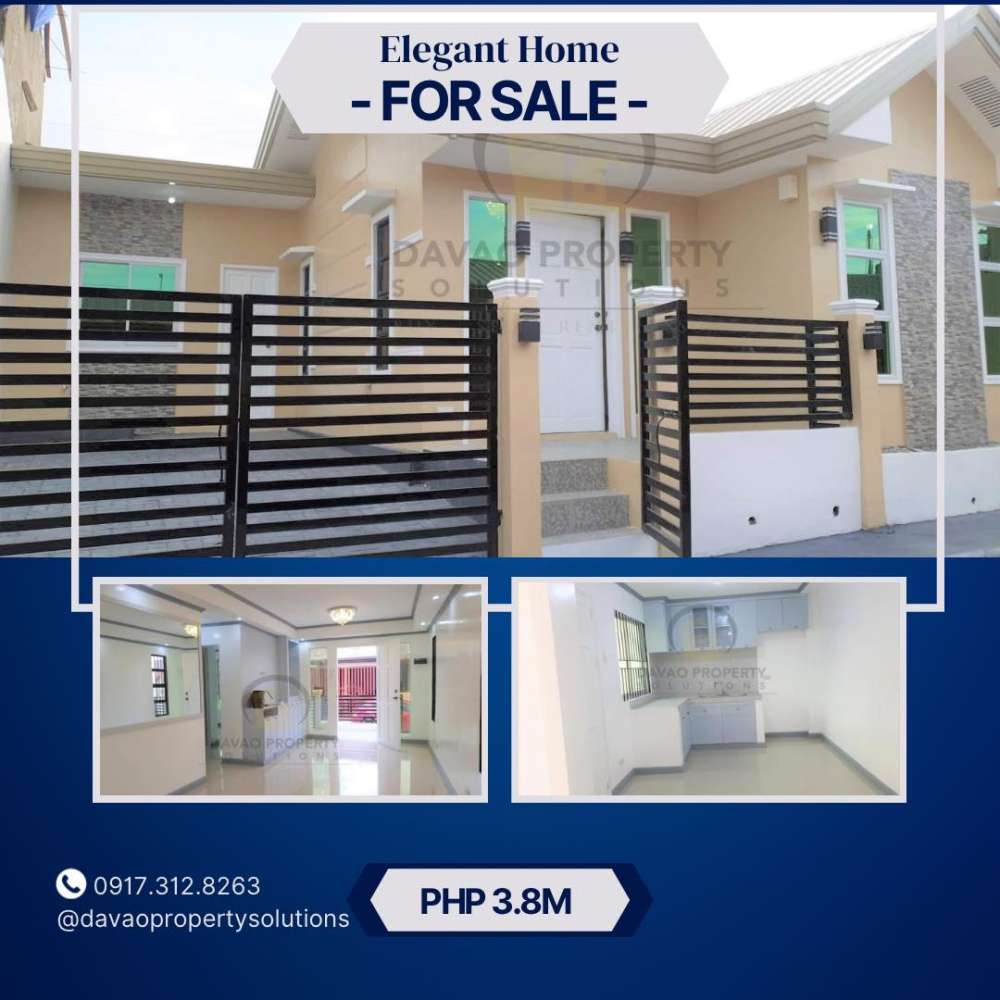 Home Information
Price

: ₱3,800,000.00

Type

: Sale

Bedrooms

: 3

Bathrooms

: 2

Lot Area

: 100 Sq. M.

Floor Area

: 80 Sq. M.

Address

: Deca Homes Indangan Buhangin

City

: Davao City

Province

: Davao Del Sur

Country

: Philippines

Zip Code

: 8000
Check out this great deal on a 3 bedroom home in Davao City! This home has a lot area of 100sqm and is perfect for families looking for their own space. Don't miss out on this amazing opportunity to own your dream home.
Lot Area: 100sqm
Floor Area: 80sqm
Bedrooms: 3
Toilet and Bath: 2
📍DECA HOMES Indangan Buhangin Davao City
𝐀𝐜𝐭 𝐟𝐚𝐬𝐭 𝐚𝐧𝐝 𝐦𝐚𝐤𝐞 𝐲𝐨𝐮𝐫 𝐝𝐫𝐞𝐚𝐦 𝐜𝐨𝐦𝐞 𝐭𝐫𝐮𝐞 !
CALL #DPSAgents:
𝙇𝙞𝙨𝙩𝙞𝙣𝙜 𝙗𝙮: 𝘿𝙋𝙎 𝘿𝙖𝙫𝙖𝙤𝙋𝙧𝙤𝙥𝙚𝙧𝙩𝙮𝙎𝙤𝙡𝙪𝙩𝙞𝙤𝙣𝙨
𝐑𝐄𝐁: 𝐒𝐡𝐞𝐥𝐥𝐚 𝐒. 𝐂𝐨𝐫𝐭𝐞𝐬
PRC License No: 0020496 Valid Oct. 12, 2023
DSHUD License No: XI-B-2022/11-066
Valid Until: December 31, 2023
PTR No: 8006353C. Issued Date: 01.12.2023
𝗢𝗳𝗳𝗶𝗰𝗲 𝗔𝗱𝗱𝗿𝗲𝘀𝘀: 𝗗𝗣𝗦 𝗥𝗲𝗮𝗹𝘁𝘆
2F, Door 8, LDI Bldg
Rd. 1 #20 Dona Vicenta Surveyor St,
Bajada Davao City
#three #bedroom #homes #for #sale #in #davaocity, 3 bedroom property in davao city, 3 bedroom house for sale in davao city,three bedroom house for sale in davao city, #forsale #davaocity #house #decahomes #forsale #house #buhangin #davao #davaopropertysolutions #dpsrealty
Location : Deca Homes Indangan Buhangin