You are here: Home » Brand New House and Lot, Feature, Hot Properties, House and Lot, House and Lot for Sale, House and Lot for Sale Davao City, Properties, Ready For Occupancy Units, Ready to Occupy House and Lot for Sale in Davao City, Residential Properties, and Subdivision Development. » Property tags: Furnished House for Sale in Narra Park Residences Davao City, House for Sale Davao City, Narra Park Residences Tigatto Davao City, Nurtura Land & Home Davao, and RFO House for Sale in Narrapark Residences Davao. » Ready for Occupancy Fully Furnished House for Sale in Narra Park Residences Davao City
Ready for Occupancy Fully Furnished House for Sale in Narra Park Residences Davao City
Visited 517 times , 1 Visits today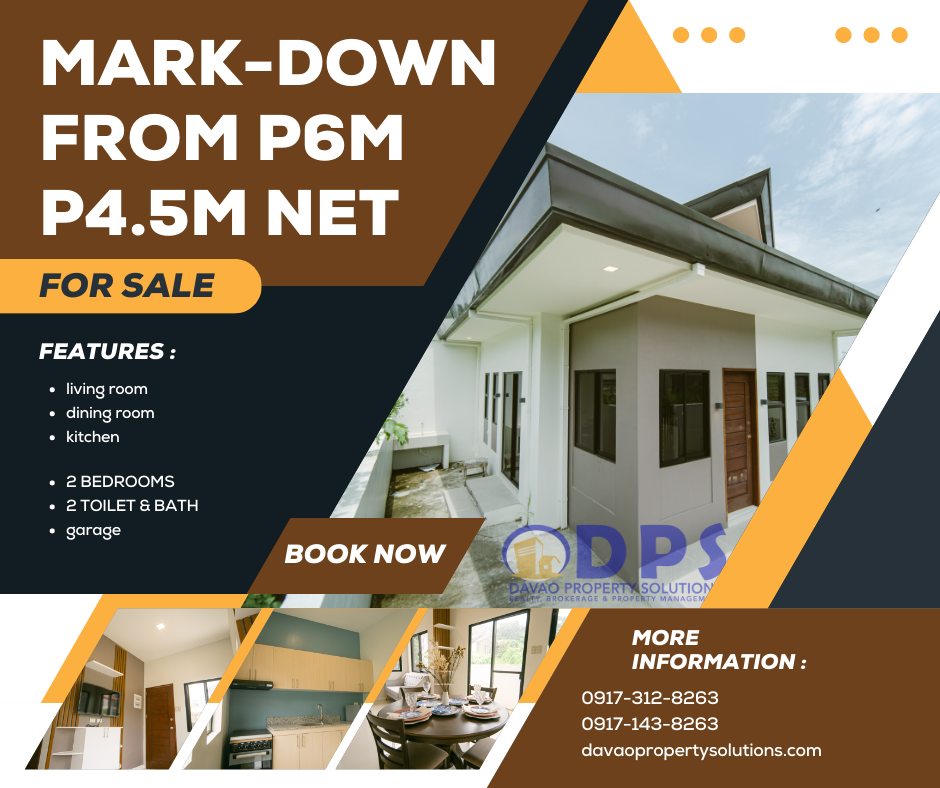 Home Information
Price

: ₱4,500,000.00

Type

: Sale

Bedrooms

: 2

Bathrooms

: 2

Lot Area

: 100 Sq. M.

Floor Area

: 45 Sq. M.

Address

: Tigatto Road Buhangin

City

: Davao City

Province

: Davao Del Sur

Country

: Philippines

Zip Code

: 8000
𝑾𝒆𝒍𝒄𝒐𝒎𝒆 𝒕𝒐 𝒚𝒐𝒖𝒓 𝒅𝒓𝒆𝒂𝒎 𝒉𝒐𝒎𝒆, "𝑻𝒉𝒆 𝑵𝒂𝒓𝒓𝒂 𝑯𝒐𝒖𝒔𝒆," 𝒏𝒆𝒔𝒕𝒍𝒆𝒅 𝒊𝒏 𝒕𝒉𝒆 𝒔𝒆𝒓𝒆𝒏𝒆 𝒏𝒆𝒊𝒈𝒉𝒃𝒐𝒓𝒉𝒐𝒐𝒅 𝒐𝒇 𝑵𝒂𝒓𝒓𝒂 𝑷𝒂𝒓𝒌, 𝑻𝒊𝒈𝒂𝒕𝒕𝒐, 𝑩𝒖𝒉𝒂𝒏𝒈𝒊𝒏, 𝑫𝒂𝒗𝒂𝒐 𝑪𝒊𝒕𝒚.
– Experience the ultimate convenience with a modular kitchen designed for efficiency and functionality.
– Stay organized with spacious modular closets in each room, providing ample storage for all your belongings.
– Never worry about parking, as this house has a dedicated parking spot for your convenience.
– Feel safe and secure with a gated property that ensures privacy and peace of mind.
– Step into convenience as this fully furnished house boasts new amenities, including air conditioning units, a refrigerator, a 40″ TV, comfortable beds, stylish sofas, and an elegant dining table.
✅𝐖𝐞𝐥𝐜𝐨𝐦𝐞 𝐡𝐨𝐦𝐞 𝐭𝐨 𝐜𝐨𝐦𝐟𝐨𝐫𝐭, 𝐬𝐭𝐲𝐥𝐞, 𝐚𝐧𝐝 𝐜𝐨𝐧𝐯𝐞𝐧𝐢𝐞𝐧𝐜𝐞 𝐚𝐭 "𝐓𝐡𝐞 𝐍𝐚𝐫𝐫𝐚 𝐇𝐨𝐮𝐬𝐞."
LOT AREA: 100sqm
FLOOR AREA: 45sqm
Bedrooms: 2
Toilet and Bath: 2
Don't miss out on this incredible opportunity to own a piece of paradise in Narra Park Residences.
CALL #DPSAgents for assistance
0917-312-8263
0917-143-8263
𝘿𝙋𝙎 𝘿𝙖𝙫𝙖𝙤𝙋𝙧𝙤𝙥𝙚𝙧𝙩𝙮𝙎𝙤𝙡𝙪𝙩𝙞𝙤𝙣𝙨
𝐑𝐄𝐁: 𝐒𝐡𝐞𝐥𝐥𝐚 𝐒. 𝐂𝐨𝐫𝐭𝐞𝐬
PRC License No: 0020496 Valid Oct. 12, 2026
DSHUD License No: XI-B-2022/11-066
Valid Until: December 31, 2023
PTR No: 8006353C. Issued Date: 01.12.2023
𝗢𝗳𝗳𝗶𝗰𝗲 𝗔𝗱𝗱𝗿𝗲𝘀𝘀: 𝗗𝗣𝗦 𝗥𝗲𝗮𝗹𝘁𝘆
2F, Door 8, LDI Bldg
Rd. 1 #20 Dona Vicenta Surveyor St,
Bajada Davao City
www.davaopropertysolutions.com
Location : Tigatto Road Buhangin
"*" indicates required fields