You are here: Home » Feature, Hot Properties, Properties, Residential Lot, and Vacant Land. » Property tags: brandnew house and lot toril davao city, eden ridge, eden ridge toril davao city, eden toril davao city house and lot, home loan, home loan davao city, house and lot for sale eden ridge, housing loan, subdivision development davao city, and subdivision development in eden toril davao city. » EDEN RIDGE | EDEN ,TORIL , DAVAO CITY
EDEN RIDGE | EDEN ,TORIL , DAVAO CITY
Visited 7266 times , 7 Visits today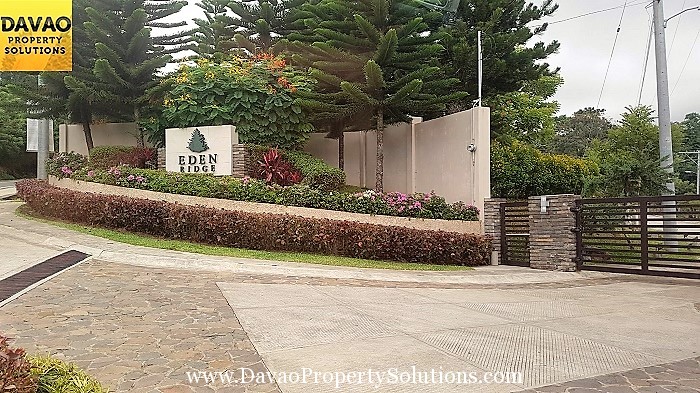 Home Information
Type

: Sale

Lot Area

: 500 Sq. M.

Address

: Eden Toril

City

: Davao City

Province

: Davao Del Sur

Country

: Philippines

Zip Code

: 8000

Language

: English

MLS No

: DPSEdenToril

EDEN RIDGE | EDEN, TORIL DAVAO CITY
 QUICK FACTS
CONCEPT:
EDEN RIDGE is nine (9) – hectare private second home community in Eden, Toril, Davao City.
Characterized by towering Norfolk pines, this weekend home subdivision is an eco-friendly community for quite rest and relaxation. In the spirit of maintaining harmony with nature, Eden Ridge residents are encouraged to practice eco-friendly habits such as rainwater harvesting, proper waste disposal, and planting of trees and other species indigenous to the area.
Eden Ridge carries an Asian Tropical architectural style with generous lush gardens. Large windows and verandas create living spaces that compliment natural elements and promote energy conservation. Indoor and outdoor living areas seemlessly blend together, making every home open to nature.
TOTAL NUMBER OF LOTS & LOT SIZES:
98 lots with typical lot sizes of 500 and 955 sqm.
PRICES/SQM:
P 6,600 to P 6,900 (prices are subject to change without prior notice).
ELEVATION:
DISTANCES:
Toril District Proper – 15KM. 20min.
Davao City Proper – 30KM. 40min.
Davao International Airport – 40KM. 60min.
UTILITIES:
Water will be sourced from the Barangay Water System while the power will be served by DLPC. Lot owners are urged to bring their own bottled drinking water. Every house is required to have an individual water reservoir to be connected to the subdivision's water system or for rainwater collection.
Telecommunication in the area is accessible through all major mobile phone networks. Lot owners may also apply directly with phone companies for a wireless landline (e.g. Bayantel Span).
AMENITIES:
Clubhouse – Designed by a Manila-based architectural firm, MANA Architecture + Interior Design, this serves as a perfect venue for social gatherings with family and friends.
Community Park– perfect for weekend camping, family barbecues and outdoor play.
Green Belts– Linear Parks that stretch between homes offering exercise stations, bike and jogging paths and a community garden.
FACILITIES:
Gate and Guardhouse
Roads – 12 – meter ROW for main road

10-meter ROW for secondary road

Underground Drainage System
Sewage Treatment Facility
Seven (7)-foot Perimeter Wall
Street lighting
24-hour Village Security
TARGET COMPLETION DATE & HOMEBUILDING SCHEDULE:
MEMBERSHIP & ASSESSMENT FEES:
One time membership fee of P500/lot. All Eden Ridge lot owners immediately become members of the Eden Ridge Homeowner's Association.
Assessment fee of P4.00/sqm/month fro three (3) years subject to annual review.
HIGHLIGHT OF THE DEED OF RESTRICTIONS:
House Design
Buildings shall be of Asian Tropical type of architecture and colours that are in harmony with the surrounding landscape, amenities and homes.
Choice of colours for roofing materials/finishes will be limited to the colors normally associated with Asian Tropical tones  such as shades of dark brown and dark green. Exterior walls are in beige, deep cream, gray or white. Light materials (e.g sawali, nipa, bamboo and cogon) shall not be allowed for any building structure except as interior and exterior finishes of building.
Heights Restrictions, Buildable Area, Setbacks & Easements:
Buildings are limited to a maximum height of nine (9.0) meters measured from any point on the roof to the original grade line directly below it, except fro lots with special heights restrictions.
The total building footprint shall not exceed 40% of the lot area.
The setback/easement is measured from the surface of the wall/column of the building to the property line. Buildings will have a setback of five (5) meters from the property line fronting the street that serves as the service access of the building. The rear side of the property will have a setback of four (4) meters from the property line. While a setback of three (3) meters from the property line is required for the sides of the lot not fronting the street. If the lot has more than one (1) side fronting the street (e.g corner lots and thru lots), only one (1) side will have a setback of five (5) meters from the property line. The other side fronting the street will have a setback of three (3) meters from the property line.
Special Restrictions on Designated Sites:
In order to preserve certain sites of scenic and environmental value and interest; as well as to ensure the preservation of the Eden Ridge development concepts and philosophy, the Developer shall specify special restrictions on the development of certain blocks and/or lots upon finalization of grading, as follows:
BLK. 12 LOTS 1-8

BLK. 17 LOTS 6-10
House Fences:
Fences for sides of the lot hat are facing the road and/or a Linear Park may be of solid, masonry, grilles, wood, plants or combination thereof and have a maximum height of ONE (1) METER from the elevation of the sidewalk, or the original grade line in case of elevated lots. All lots adjacent to the Linear Park will have a minimum fence height of ONE (1) METER.
Water Conservation:
Every house is required to have an individual rainwater reservoir for rainwater collection.
Due to limited supply of water in the area,a swimming pools, jacuzzi, fountain, fishpond, grottos and other water features not specifically mentioned herein are not allowed.
Homebuilding:
Homebuilding is allowed upon 100% completion of the subdivision and full payment of the lot.
No temporary building, shack, barn, or other structures shall be erected, except by builders during construction period to serve as a warehouse for the construction materials and a bunkhouse for the construction workers.
To ensure that violations and damages resulting from any house construction project area are immediately corrected and rectified at the expense of the Lot Owner, a P200,000.00 Cash Deposit per house construction application is required.
Administrative and Processing Fees include:
< P 1,500.00 non-refundable for processing of house and lot plans.
< P 1,000.00 per month administrative chargers (minimum of ten months) paid in advance.
< Mobilization Fee of P2,000.00 for maintenance of roads and drainage due to heavy equipment traffic and construction debris.
< P50.00 for each worker's ID.
< Water service connection fee including water meter. (Lot Owner will be advised of service connection cost before start of homebuilding.)
---
FOR ACTUAL SITE VIEWING PLEASE CONTACT:
Shella Mae S. Cortes
Lic. Real Estate Broker
PRC No: 0020496
Davao Property Solutions by SMS Cortes
Door F- TMNT Bldg 1. Doña Vicenta Vill. Bajada Davao City
(082) 327-3608
0917-312-8263
0943-507-1990
www.davaopropertysolutions.com
FB: Davao Property Solutions
EDEN RIDGE Toril Davao City
Your life looks good from UP here……Life at Eden Ridge evokes exclusivity and a great sense of accomplishment. When you wake up to cool mountain air and breathtaking views everyday, it's hard not to feel like a winner. Treat yourself to a vacation home you can enjoy for many, many years
Wanna more details? Contact us: +63917-312-8263 (viber/imo/whatsup)
davaopropertysolutions@gmail.com