You are here: Home » Brand New House and Lot, Feature, Hot Properties, House and Lot, House and Lot for Sale, House and Lot for Sale Davao City, Properties, Residential Properties, and Subdivision Development. » Property tags: home loan davao, Pagibig Housing Loan Davao City, Pre-selling House in Davao City, 𝙋𝙝𝙞𝙣𝙢𝙖 𝙈𝙖𝙖𝙮𝙤 𝙏𝙪𝙜𝙗𝙤𝙠 𝙃𝙤𝙪𝙨𝙞𝙣𝙜, and 𝘼𝙛𝙛𝙤𝙧𝙙𝙖𝙗𝙡𝙚 𝙃𝙤𝙢𝙚𝙨 𝙞𝙣 𝘿𝙖𝙫𝙖𝙤 𝘾𝙞𝙩𝙮. » Affordable Homes in Davao City | 𝙋𝙝𝙞𝙣𝙢𝙖 𝙈𝙖𝙖𝙮𝙤 𝙏𝙪𝙜𝙗𝙤𝙠 𝙃𝙤𝙪𝙨𝙞𝙣𝙜
Affordable Homes in Davao City | 𝙋𝙝𝙞𝙣𝙢𝙖 𝙈𝙖𝙖𝙮𝙤 𝙏𝙪𝙜𝙗𝙤𝙠 𝙃𝙤𝙪𝙨𝙞𝙣𝙜
Visited 93 times , 1 Visits today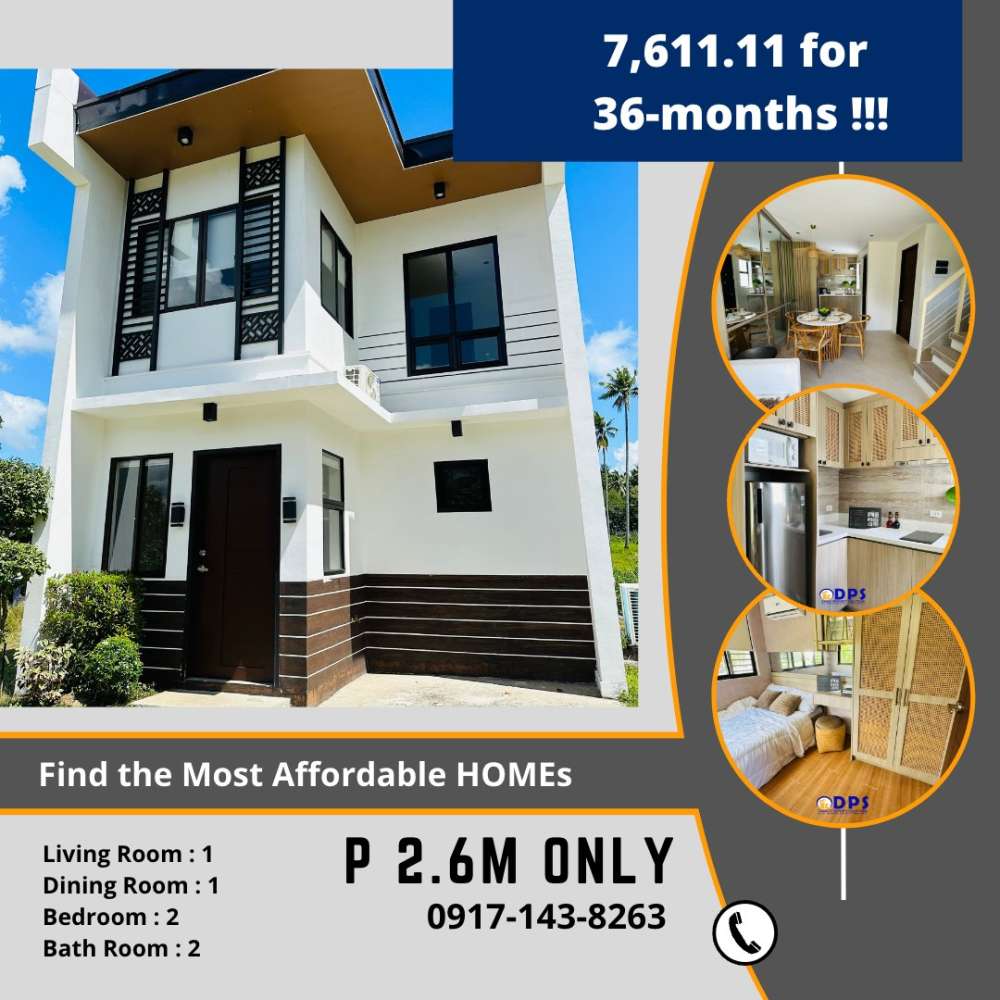 Home Information
Price

: ₱2,600,000.00

Type

: Sale

Bedrooms

: 2

Bathrooms

: 2

Address

: Tugbok

City

: Davao City

Province

: Davao Del Sur

Country

: Philippines

Zip Code

: 8000
PHINMA Maayo is a community that gives you the chance to start creating the future you dream of.
➡️Good Source of potable water
➡️A Pioneering District to START A NEW
➡️Flood free Area
➡️Close to nature
Invest in your future with PHINMA Maayo Tugbok! This is an amazing opportunity to unlock more financial resources and gain valuable returns over time. Enjoy the benefits of living in a secure, safe and convenient environment. With PHINMA Maayo Tugbok, you can have peace of mind that you are investing in something that is truly worth your money!
—
Make your dream Davao home a reality today!
CALL #DPSAgents:
𝙇𝙞𝙨𝙩𝙞𝙣𝙜 𝙗𝙮: 𝘿𝙋𝙎 𝘿𝙖𝙫𝙖𝙤𝙋𝙧𝙤𝙥𝙚𝙧𝙩𝙮𝙎𝙤𝙡𝙪𝙩𝙞𝙤𝙣𝙨
𝐑𝐄𝐁: 𝐒𝐡𝐞𝐥𝐥𝐚 𝐒. 𝐂𝐨𝐫𝐭𝐞𝐬
PRC License No: 0020496 Valid Oct. 12, 2023
DSHUD License No: XI-B-2022/11-066
Valid Until: December 31, 2023
PTR No: 8006353C. Issued Date: 01.12.2023
𝗢𝗳𝗳𝗶𝗰𝗲 𝗔𝗱𝗱𝗿𝗲𝘀𝘀: 𝗗𝗣𝗦 𝗥𝗲𝗮𝗹𝘁𝘆
2F, Door 8, LDI Bldg
Rd. 1 #20 Dona Vicenta Surveyor St,
Bajada Davao City